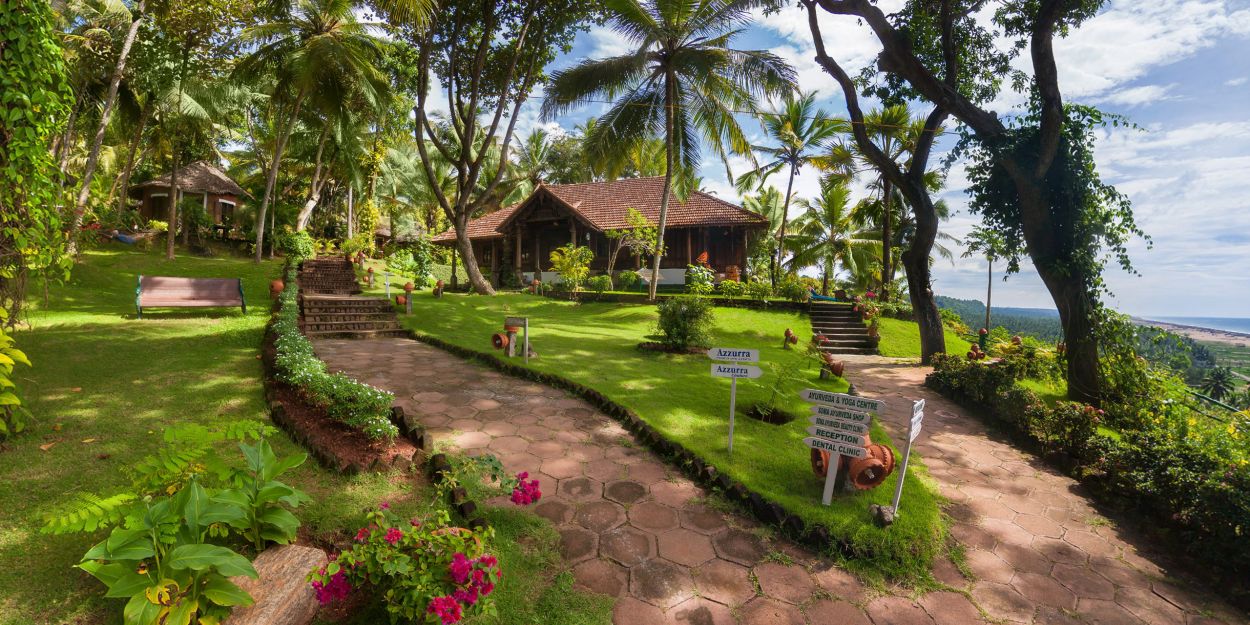 Best Ayurveda Hospitals in India
Ayurveda is the traditional, ancient Indian system of health science. Its name literally means, "life knowledge." The Ayurvedic method of holistic healthcare emphasizes balancing the body, mind, and spirit to treat and prevent disease. This 5,000-year-old practice focuses on harmonizing the body with nature through diet, herbal remedies, yoga and meditation, exercise, lifestyle, and body cleansing. It is considered the sister science of yoga.
Ayurveda is an ancient science more than 10,000 years old. Practiced largely in the Indian subcontinent, Ayurveda involves a combination of various therapies and techniques to alleviate aches, pains, and chronic diseases. In recent years, due to changing lifestyles, environmental pollution and stress, man has failed to achieve harmony with mind, body, and soul.
Ayurveda stands divided into eight branches called Ashtangas. They are named as Kaya (general medicine), Baala (pediatrics), Graha (astrological), Urdwanga (above the neck), Shalya (surgery), Dhamshtra (toxicology), Jara (longevity) and Vrusha (infertility). The physician who has the expertise and thorough knowledge of all these branches is called an Ashtavaidyan.
A household name in India, Ayurveda boasts of a large number of popular therapies such as Dhara, Ayurvedic Massages, Panchkarma, and Shirodhara. These therapies and treatments heal several nagging diseases that may or may not be chronic in nature.
Panchakarma is a process of cleansing of the entire human body internally and this process is divided into five steps, namely Vaman, Virechan, Anuvasan, Niruhan, and Navan/Nasya, on the other hand, is the process of calming the mind and expanding consciousness by the continuous pouring of warm oil to the forehead for 25 minutes or so. This relaxes the entire body. Lastly, nasya drops are administered to the nasal passage, which helps in removing residual doshas and toxins from the head and neck area.
These therapies and treatments, performed with expertise and precision make India the best Ayurvedic tourism destination in the world.
Medinovita.com has entered into a partnership with pioneering Ayurvedic and Yoga centers across India to offer packages as per the choice and budget of our customers. Our rates are always on a discounted rate and usually 10-20% less than the packages offered by any other competitor in India
Click here to crequest for a quote.Alternatively you can email us

care@medinovita.com

or WhatsApp us on

+91-9740177277

to book an appointment with Ayurveda doctor.
Best Ayurveda resorts in India
Ayurvedic resorts in India are plentiful, due to the moist humid climate and abundant supply of medicinal plants and herbs there. Not only can you rejuvenate your body, but you can also have a wonderful vacation at the same time. However, the treatments at some Ayurvedic resorts are much better than others. These top Kerala Ayurvedic resorts are all well managed and have an excellent range of properly administered Ayurvedic treatments.
This award-winning Ayurveda Hospital set on tropical gardens and prime beachfront location in South India. Here you can benefit from traditional Ayurvedic therapy as well as Yoga in a blissfully peaceful environment. Somatheeram, the world's first Ayurveda hospital set in a resort ambiance to provide Ayurveda treatments for patients from all over the world. It is located at Chowara beach with over 15 acres of greenery all around on a hillock 9 km south of the famous Kovalam Beach, Trivandrum, Kerala, India. Click here to conact the resort.Alternatively you can email us care@medinovita.com or WhatsApp us on +91-9740177277 to book an appointment with Ayurveda doctor.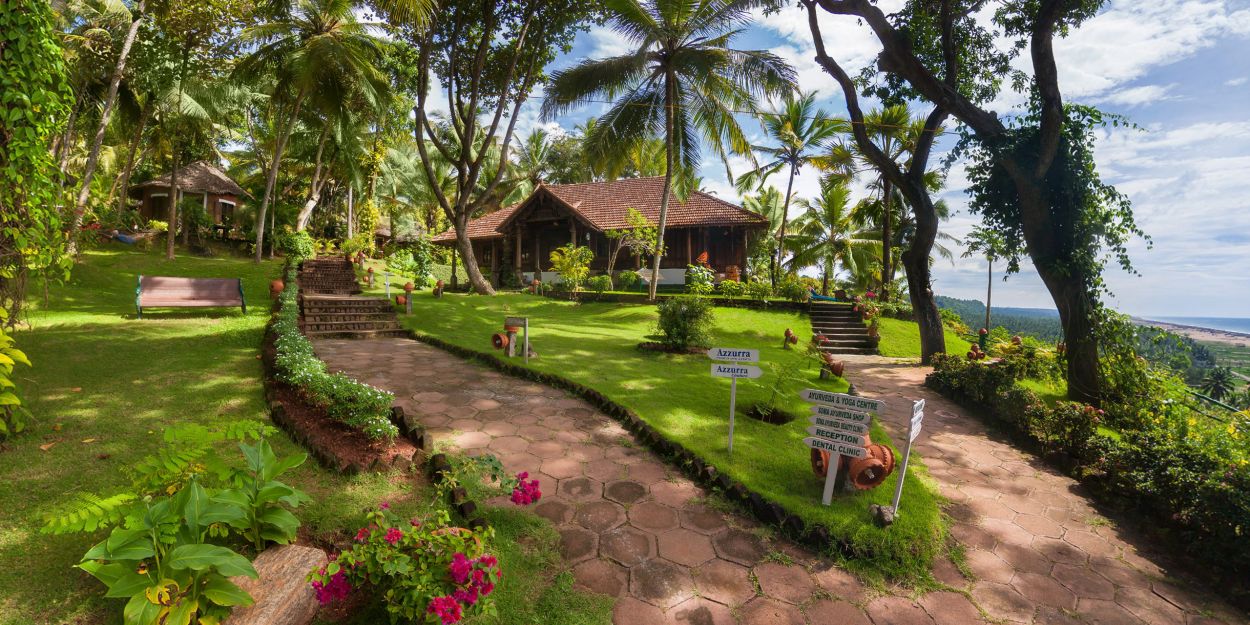 The special Ayurveda treatments and packages offered includes; Rejuvenation therapy, Panchakarma / Detoxification / Body purification, Slimming, Stress management, Anti ageing, Beauty care and various Clinical treatments for cure.
Placed in Palakkad, Kerala, Kairali's The Ayurvedic Healing Village is one of the most reputable Ayurvedic resorts, known for offering authentic Vedic services. Kerala is known all around the world for being a hub of Ayurveda activity and Kairali Ayurvedic health resort is one of the most famous Ayurveda resorts of the state. Many Indian dignitaries have opted for the outstanding Ayurvedic services of the resort. The property also has its own organic herbal garden. One can also get services like Numerology, palmistry, yoga, meditation, astrology, and positive Pujas or health rituals.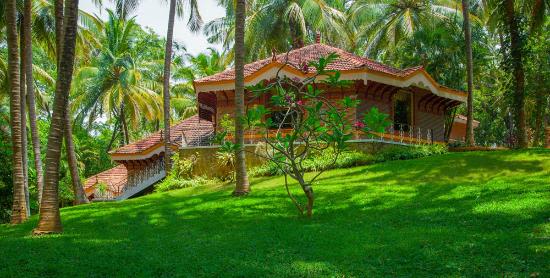 This ayurvedic resort in Kerala happens to be the World's First Ayurvedic Health Farm. It is renowned for offering excellent and authentic Ayurveda therapies, massage and treatments.A stay here is all about going back to nature with its lush and serene ambiance spread across 50 acres of green that is soothing to the eyes and healing for the mind. Relish nutritious food prepared from the ingredients of the resort's organic garden. Click here to conact the resort.Alternatively you can email us care@medinovita.com or WhatsApp us on +91-9740177277 to book an appointment with Ayurveda doctor.
Carnoustie Ayurveda and Wellness Resort, Alappuzha
Carnoustie - Ayurveda & Wellness Resort is set on the shores of the mesmerizing Arabian sea, just 8 km away from the world famous backwaters of Alappuzha. The luxurious Carnoustie Ayurveda & Wellness Resort provides you with the best of 'God's own country' and is meticulously designed to be a perfect restful and rejuvenating escape.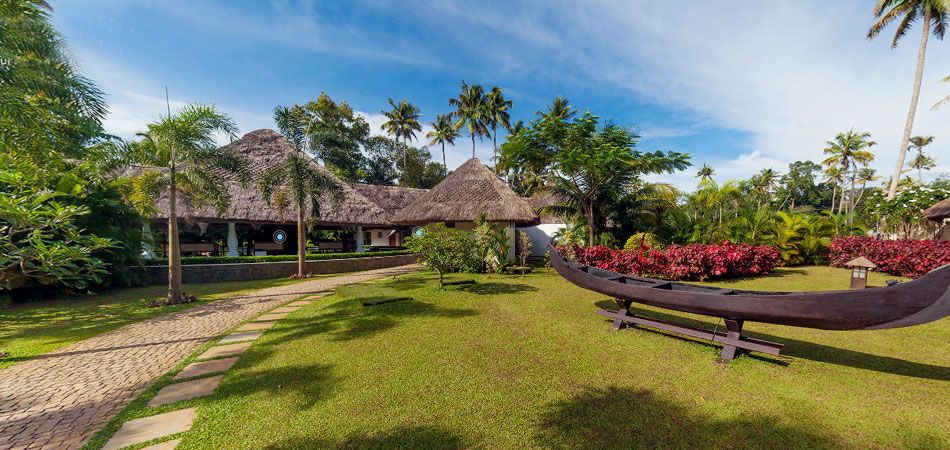 Located 8 km from the Alappuzha backwaters, Carnoustie is one of the most popular rejuvenating Kerala Ayurveda resorts. Awarded as one of the best luxury spa resorts of the country by Business Destination Magazine (UK), it boasts of premium well-equipped villas & a royal houseboat, world class dining, incredible traditional hospitality, and refreshing Ayurvedic spa in India. Click here to conact the resort.Alternatively you can email us care@medinovita.com or WhatsApp us on +91-9740177277 to book an appointment with Ayurveda doctor.
Kalari Kovilakom, Palakkad
Kalari Kovilakom nestles at the foothills of rural Kerala and is located in a village called Kollengode in Palghat district. Set in very picturesque, rural countryside it is surrounded by hills and although at sea level, is in reality quite far away from the coastline. The weather here is usually hot and dry except during the Monsoons when it is pleasant.KalariKovilakom is an old Keralan palace, which has now been renovated as an exclusive center for guests to experience pure and undiluted traditional Ayurveda therapy in a unique, unspoiled setting. The simple but landscaped gardens, boast a wide variety of herbal plants, trees, and large old style bathing ponds, all of which blend in beautifully with the surrounding village and countryside.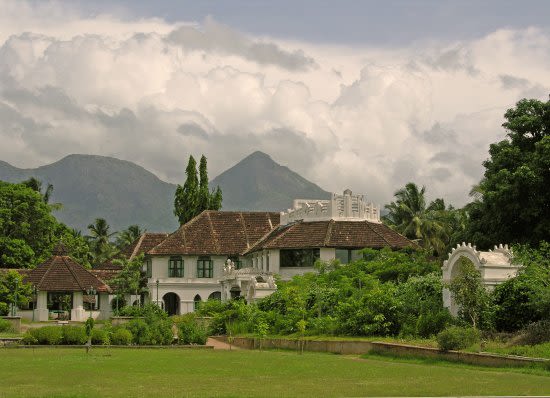 There are a total of 18 guest rooms consisting of 12 Kovilakom suite rooms and 6 Vengunad suites, which are the highest category. The suites are all air-conditioned and the facilities within are modern. Out of these, the former Queen's room is the only Vengunad suite located inside the Palace while the rest are spread out between what is known as the School building which is colonial in style and an independent block that overlooks the old bathing pond which now houses the Fish and the temple dedicated to the goddess Devi. However in terms of service offered or treatments there is no difference between the Vengunad and Kovilakom suites and the charm about this place is that being an old Palace, no two rooms are alike. Click here to conact the resort.Alternatively you can email us care@medinovita.com or WhatsApp us on +91-9740177277 to book an appointment with Ayurveda doctor.
The Nattika Beach Ayurveda Resort, Thrissur
The resort is set out in 16 acres of lush coconut groves by the Nattika beach. The long sandy Nattika beach and the wonderful views and traditional Kerala design of all our 52 Villas complement the Ayurveda experience provided at Nattika. The villas are made with traditional Kerala elements rooted in Ayurveda and are available in four different categories.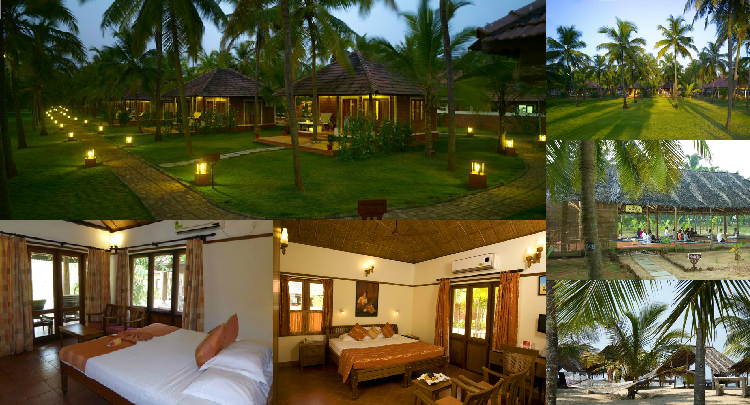 Located in a picturesque locale dotted with coconut palms, this ayurvedic beach resort is designed in ethnic Kerala architectural style and known for serious ayurveda treatments.
The Ayurvedic centre Swastha is built in a traditional way that allows abundance of natural light and air. It includes 16 treatment rooms, two steam bath chamber rooms and four doctors consulting rooms with two lobbies for guests. The center is known for the authentic treatments and for the individual care that is given by its medical team. Dr. Hema K.P is leading a team of 6 doctors, and 49 masseurs who are trained in Ayurvedic, Kalari and reflex massage techniques.
The Nattika Beach Resort focuses on restoring the natural harmony of the body and the mind. During the first consultation at Swastha, doctors will ask for your medical history and do the examinations based on Ayurveda (Darshana-inspection and observations, sparshana-palpation, percussion, auscultation, prashna–interrogation like general state of health with special focus on your lifestyle, diet, habits, and environmental surroundings). Click here to conact the resort.Alternatively you can email us care@medinovita.com or WhatsApp us on +91-9740177277 to book an appointment with Ayurveda doctor.
The River Retreat Heritage Ayurvedic Resort, Cheruthuruthy
The erstwhile summer palace of the Maharajas of Cochin, now houses The River Retreat - a 4 star Heritage Ayurvedic Resort. Preserving the spirit of its illustrious past, the palace breathes history in every detail, offering you Ayurvedic rejuvenation and therapies in the ambiance of a palace. A luxurious 3 star Heritage Ayurvedic Resortat The River Retreat, offer a chance to explore the calm and serene environment of the God's own country-Kerala. The former summer Palace is now a favorite destination of thousands of tourists and anyone who wishes to stay close to nature and experience its rejuvenating effect on their tired bodies and frayed nerves Click here to conact the resort.Alternatively you can email us care@medinovita.com or WhatsApp us on +91-9740177277 to book an appointment with Ayurveda doctor.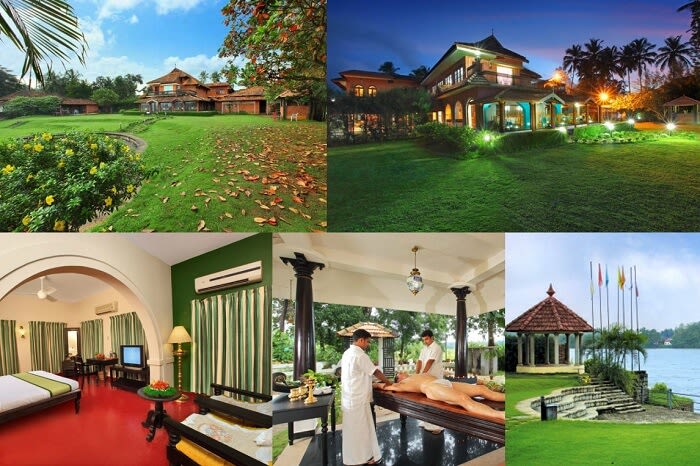 The River Retreat offer a wide range of Ayurvedic packages to choose from depending upon your budget, duration, etc. The pristine environs are ideal for spending a relaxing & rejuvenating vacation in Mother Nature's lap. We have a skilled and dedicated team of masseurs with rich experience and a healing touch that leaves you feeling completely relaxed and revitalized.
ShinShiva Ayurvedic Resort, Kovalam
Shin Shiva is an Ayurvedic resort that embodies the very best of what the Indian system of medicine has to offer. Located at Chowara, close to the famed Kovalam beach and about 30 kilometers from Trivandrum airport, Shin Shiva is the epitome of peace and tranquility. The resort has all the facilities to make your stay relaxed, comfortable and rejuvenating. Overlooking the shimmering waters of the Arabian Sea and nestled among lush green palms, Shin Shiva offers you a chance to unwind and have a holiday of a lifetime, while simultaneously rejuvenating your body and mind through effective, efficient Ayurvedic treatments. Click here to conact the resort.Alternatively you can email us care@medinovita.com or WhatsApp us on +91-9740177277 to book an appointment with Ayurveda doctor.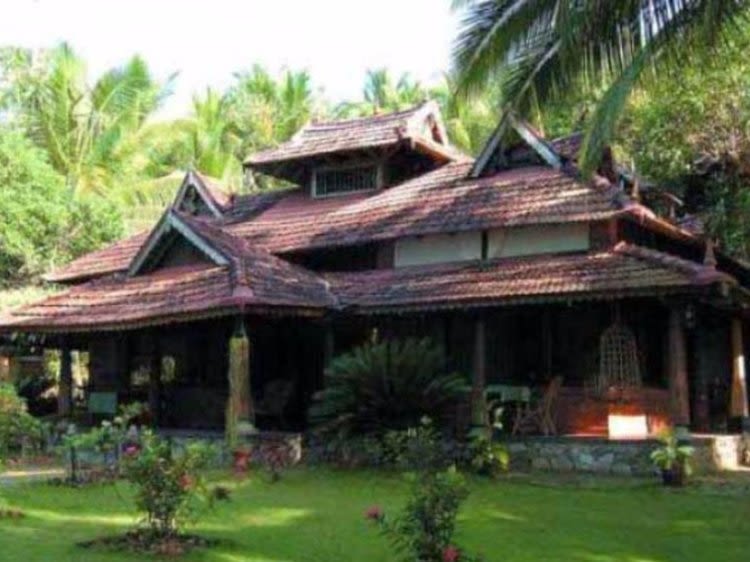 Guided by Dr. V. Franklin, a veteran Ayurvedic practitioner, and assisted by qualified doctors and masseurs, Shin Shiva offers effective treatments for a whole host of ailments including arthritis, osteoarthritis, paralysis, rheumatism, joint stiffness, spondylosis, sports injuries, muscular atrophy, degeneration of bones, bronchial asthma, eosinophylia, nervous disorders, stress related ailments, mental tension, loss of appetite, sluggishness, insomnia, head aches, migraine, mental disorders, obesity, psoriasis, gastric complaints, uro-genital diseases, infertility, immune deficiency, hemiplegia, brain diseases, spleen problems, toxicity, and skin diseases. Apart from disease-specific treatments, Shin Siva also provides therapeutic packages for general rejuvenation, longevity, beauty care and slimming, and conducts yoga and meditation sessions as well.