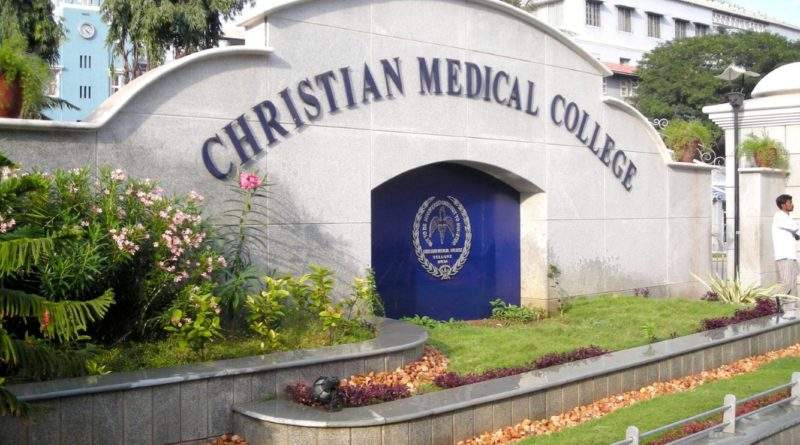 About CMC Vellore
The Christian Medical College Vellore (CMC) is a large multi-specialty teaching hospital located in Tamil Nadu, India, about 140km to the west of Chennai. It is a not for profit, unaided institution, funded almost entirely by patient fees. Its vision is to seek to be a witness to the healing ministry of Christ, through excellence in education, service, and research. It was founded in 1900, when an American, Dr. Ida Sophia Scudder, opened a small dispensary and 1-bedded clinic in Vellore. Responding initially to the needs of women and children, she began training programmes for nurses, compounders and later doctors. Through her hard work, leadership, and inspiration it has grown into one of the leading hospitals and medical educational and research institutes in India.
In line with the Founder's vision, CMC offers high-quality services to people from all economic backgrounds, with a special concern for the disabled, disadvantaged, marginalized and vulnerable. Patients can opt for private consultations and to be admitted in private, air-conditioned wards, while general patients enjoy high-quality services at affordable rates, but with more basic facilities. Many patients from below the poverty line are given free or subsidized treatment. CMC's main focus is on the medical needs of India, but we welcome patients from abroad who wish to come here. However CMC do not provide any special facilities or packages to such patients, nor CMC make any arrangements regarding travel or accommodation outside the hospital for the patient or their attendants. CMC offers services in all major medical specialties and almost every super specialty. Many departments have world-class expertise in specific areas but also provide services of a more general nature. CMC is particularly well known for departments such as Gastroenterology, Neurosciences, and Haematology (where it is a national leader in the treatment of rare blood disorders and bone marrow transplantation). However, it also gives high importance to less prominent specialties such as Rheumatology, Physical Medicine and Rehabilitation, Psychiatry, Developmental Paediatrics, and Palliative Care.
How to reach CMC vellore
Vellore is well connected by train, the nearest major railhead is Katpadi Junction. Many trains pass through Katpadi and stop for an average of 10 – 20 minutes. Katpadi is almost like the de facto train station for all patients coming to Vellore for treatment.
If you plan to travel by air then the nearest major airport is Chennai. Alternately you can also come through Tirupati which also has an international airport. However, Chennai is a major hub is always recommended.Email us care@medinovita.com or WhatsApp us on +91-9740177277 for flight and train tickets.
From Chennai airport, you can take tourist taxis (Car Hire) outside for a price band between Rs. 2000 INR – 4000 INR. Alternately you can travel from Chennai airport to Chennai Central Station and avail many trains that pass through Katpadi Junction.
How to book a doctor appointment at CMC vellore?
Step 1 : As a new patient you can go to http://clin.cmcvellore.ac.in/webapt/ or Alternatively you can email us

care@medinovita.com

or WhatsApp us on

+91-9740177277

to book appointments. This will take you to the registration page. Select button "New Patient (First time to CMC)?".If you have registered previously, you can skip registration and login to your account.
Step 2 : Check on "I HAVE READ AND AGREED TO THE TERMS AND CONDITIONS" checkbox and click on proceed button This will take you to the registration form.
Step 3 :Fill up mandatory information like name,DOB,Nationality,address,visa information etc and click submit button.It will give you a pop up asking to verify the information entered. Click ok on the popup. This will give you an option to accept the terms and condition. Check "By ticking this box I am agreeing that I have read the above/ the details have been explained to me and I am giving consent as stated." and "I have read and agreed to the terms and conditions." A text box to enter captcha is there on the bottom left-hand side. Make sure to enter the captcha and then click on the Proceed button.
Step 4 : Now you are at a page to select Category ,Department & Clinic.You also have an option to search by doctor name. You may also note down user id and password generated by the system from the same page. This information is very much needed for future login or appointment with CMC Vellore.
Step 5 : There are two types of appointment a)Private & b)General.In general appointment, you can consult a junior doctor and with the private appointment you can consult a senior doctor. Private appointment cost 750/-INR and general appointment cost 250/-INR.
Step 6 : After selecting Category,Department and Clinic,expand "SLOTS VIEW BY DOCTOR" dropdown to view list of doctors.Select a doctor name to view available slots. You get a small window called "Fix an Appointment" with available slots. Select a slot and click on Book Now link.
Step 7 : Now you will get a confirmation message "Are You Sure to Fix an Appointment for DR.XXXXXX on DD/MM/YYYT".Click OK button.This will take you to a page to confirm the payment mode.
Step 8 : If you are confused with department or the best doctor in a particular department,please contact us at

care@medinovita.com

or WhatsApp us on

+91-9740177277

for a second opinion.
Step 9 : CMC accepts two payment modes 1)Credit/Debit cards 2)Net banking.Select a mode and click on Proceed payment.
Step 10 : Now you will be take to a page select the payment gateway and card details.
Step 11 : Dont have an international credit\debit card?Dont worry.Please contact us at

care@medinovita.com

or WhatsApp us on

+91-9740177277

for alternate payment methods from your home country.
Step 12 : Once payment is completed,you get a payment confirmation message and appointment confirmation message.
Do you need help with booking a doctor appointments with CMC Vellore
Please email webappointment@cmcvellore.ac.in if you need help with this or have any questions.Alternately you can contact at care@medinovita.com or WhatsApp us on +91-9740177277 for alternate payment methods from your home country.
Do you need assistance in processing Indian medical visa for CMC Vellore
You need an invitation letter from CMC vellore to apply for Indian medical visa.Please click here to read more about applying for Indian medical visa online. Step by step process to apply Indian medical visa.If you are a Bangladesh passport holder then please click on Medical Visa from Bangladesh to India for more information.
What documents should i carry to CMC vellore for admission
You have to carry your original passport, your relative's passport and copy of G.O letter with boarding address. If your relative is an Indian, he/she should also have an ID proof.
Can i travel to CMC vellore alone for treatment
Yes.But iff you are admitted in the ward, a female attendant is mandatory.
Can i change my appointment date online
Yes. Onetime postpone (or) advancement of appointment date is possible Online. Website – www.cmch-vellore.edu ->Are you a patient -> Book an Appointment ->Book/ Date Change appointment
How to book a new OP appointment if i dont have credit /debit card?
Please fill up the pre-registration form online and present the confirmation number at the Pre-registration counter near SILVER GATE (600) in CMC Hospital campus for private appointment/ for the general appointment you can go to ISSCC Building Ground floor counters. You will be given an appointment depending upon the availability of appointments.You can also contact us at care@medinovita.com or WhatsApp us on +91-9740177277 for alternate payment methods from your home country.
How can Medinovita help you?
We are one of the best medical travel service provider in India helping customers like you to travel to India for various medical treatments. We have the partnership with India's best hospitals and travel agents to book tickets, hotels and arrange local transport. You may contact us if you are interested in book tickets or hotel through us and our concerned team will contact you. please submit the inquiry or email on care@medinovita.com. You can also call or WhatsApp us on +91-9740177277. We usually respond within one hour of receiving the inquiry.
Why India is becoming popular as a medical tourism destinations
Low Cost of Treatment when compared to the first world countries like the US and UK.
Getting Visas for medical purpose is much easier than ever.
Access to immediate service is what attracts the foreign medical tourists. Surgeries are done almost immediately.
Even though India is a developing country, it provides world-class and standardized medical services and cares with the help of the latest technology.
Post retreatment recovery provided to patients with therapies like Ayurveda, Naturopathy, and Yoga.
India provides an opportunity for medical tourists to visit some of the most alluring and awe-inspiring places by taking them on a medical tourist trip.
India has a strong base of qualified and skilled doctors. Another major factor that has made India succeed in inviting the medical tourists is the populace of good English speaking doctors, guides and medical staff which makes it easier for the foreign tourists to correlate well to Indian doctors.
How can a patient travel to India for Medical treatment
Step 1 : Submit your enquiry with Medinovita.Submit medical records and passport copy along with enquiry.
Click here to conact Medinovita's international patient desk.Alternatively you can email us

care@medinovita.com

or WhatsApp us on

+91-9740177277

to get a free consultation.
Step 2 : Optionally share medical documents and passport copy with Medinovita via email.
You can email medical records to

care@medinovita.com

Step 3: Medinovita patient relationship manager will get in touch with you to understand the treatment requested, hospital preference,city preferences etc. Patient relationship manager also help you to choose the best hospitals and doctors in India.
Step 4: Medinovita to get back with an invitation letter, appointment date and treatment quote for processing the medical visa in 24 hours from the time passport copy is received.
Step 5 : Patient to process medical visa with Medinovita's assistance
Step 6 : Patient to make travel arrangements with the help of Medinovita
Step 7: Medinovita to book an appointment with the hospital and book accommodation at a hotel near to the hospital
Step 8 : Medinovita executive to receive atient at airport
Step 9 : Medinovita executive to drop patient at hotel and hospital reception
Step 10 : Medinovita executive to keep track of the progress while patient is in hospital
Step 11 : Medinovita executive to drop patient at airport once patient gets discharged from hospital
Step 12 : Medinovita to followup with hospital once hospital returned home if needed