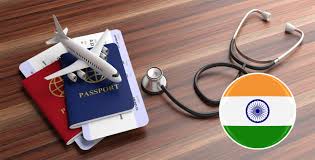 Eligibility for Indian medical visa
Medical visa is granted to those whose travel to India only for medical treatment.
Short term medical visa can be applied online and long term visa application should be submitted to the Indian embassy in your respective country. Bangladesh,Pakistan & Afgan citizens are not eligible for eVisa
Patient must have invitation letter from a recognized/reputed/specialized hospital/healthcare center in India.Medinovita helps patient to book appointment in hospitals in India and get the invitation letter for the medival visa.Click here to request the invitational letter.
Only up to two medical attendants are allowed to accompany him/her. They can be his/her family members or close associates.
Passport should have at least six months validity from the date of arrival in India. The passport should have at least two blank pages for stamping by the Immigration Officer.
International Travellers should have the return ticket or onward journey ticket, with sufficient money to spend during his/ her stay in India.
Do you require a free cost estimate for your treatment and invitation letter?
Submit your details with scanned copy of passport and medical reports to get an estimate in 48hrs
Submit Enquiry
Documents required for converting Tourist Visa to Medical Visa
Applicant should be present in India while applying for visa conversion.
Proof of Residence in India:Updated Form from Hotel or Lodge or hospital/ Registered or Notarized Lease Deed in case staying in a rented accommodation /Electricity Bill or Landline Telephone Bill or Municipal Bill of the landlord in case of staying in a house of a friend or a relative along with a declaration from the landlord and copy of photo-ID of the landlord and Tenant Police Verification
Applicant's Photo
Indian Visa grant letter
Proof of Financial soundness: Endorsement of foreign currency equivalent to US$150/- per applicant and/or a copy of international credit card and/or updated bank statement, as the case may be, showing sufficient balance to finance travel.
Medical certificate:Medical Certificate from recognized/reputed hospital where treatment is being taken, mentioning type of ailment, duration of treatment with treating doctor's signature and stamp and doctor's registration no. with state code. Medical Certificate also to mention Name, Nationality and Passport No. of Medical Attendant, if any
Passport:Bio-Data page of Passport along with page bearing last Indian Immigration arrival stamp
Guidelines for submitting relevant documents for converting Tourist visa to Medical visa
Only one copy of each document type has to be uploaded.
Scanned documents should be in pdf format.
Size of pdf document must be less than 200 KB.
Photo Requirements:

Format - JPEG.
Size - Minimum 10 KB , Maximum 1 MB.
Recent front facing photograph with white background to be uploaded by the applicant.
Do not crop the Passport Image to use it as your recent photograph. Upload clear front facing photograph with preferable white/light coloured background.
No shadows on the face or on the background.
The application is liable to be rejected if the uploaded photograph are not clear and as per specification.
Visa processing fee
Vary based on multiple factors
Visa processing time
14-30 working days.
Step by step process to apply for converting Tourist Visa to Indian Medical Visa
Go to https://indianfrro.gov.in/eservices/userlogin.jsp?disclaimer=1 and click on Register button to create an account with F.R.R.O.Enter user id,password and cpatcha if you are already a registered user.
The applicant should be present in India while applying for and for grant of visa related services
Click on Fresh/New Online Application submission button on the home page once successfully logged in.
Enter Nationality, State in India where you are residing currently, City where you are located in India.
Check "Conversion Type" box and then click "Visa" as the options from the section "Please Choose the Services you Desired"
Select No for all the questions under Category section
Select Visa type as the type of visa you are holding currently(eg Tourist Visa) and Visa Conversion Type as "MEDICAL VISA"
Select "Are you Married to Indian national?" from List of questions and Click on Submit button
You get two warning messages. Please close both the windows one after that other.
Now you will land on the online application form for visa conversion. Please note that if page idles for more than 30 minutes then you will be logged out automatically and data will be lost.
Fill up all mandatory fields in the online application form. Ensure that form is filled carefully and diligently.
Please select Conversion Type as "Visa Type Conversion", Valid for no. of entry is "Multiple Entry" and Required for a period of Month(s) as 3,6 or 12. Medical visa is valid only up to a year.
Click on the Save and Continue button. You will now land on a page where relevant documents can be uploaded.
First select Document Type then chooses photo or document by clicking on Browse or Choose file. Indian Residence Proof, Photo, Visa Grant Letter, Medical Certificate issued by a reputed doctor, Bio-Data page of Passport along with page bearing last Indian Immigration arrival should be uploaded.
While uploading a photo, you get a window to crop the photo. Please ensure that your face is visible while cropping the photo.
Click on Complete submission form.You get a message to accept terms & conditions of FFRO.Click OK.
The application would be scrutinized by Visa Officers only if the application has been successfully submitted. Upon scrutiny, necessary instructions with regard to application i.e. Fee Payment, Correction of Selected/desired Service, re-uploading of documents, etc would be conveyed to the Foreigner through email/SMS alerts.
The foreigner would be intimated to deposit the requisite fee, if any, for the service. The fee has to be deposited online through Bank Payment gateway available on the portal. Amount of fee would be intimated through email/SMS/portal alerts.
The foreigner can track the status of the application through the portal. For any clarification, FRRO Support Centres can be contacted.
Upon Grant/Rejection of service, the same would be intimated to the foreigner. His/Her RC/RP etc would be sent through email or it can also be downloaded from the portal by signing in.
The foreigner can approach the concerned Civil Authority i.e. FRRO/FRO office directly in case of exigency/emergency. Upon satisfaction of the case, the services can also be granted directly at the FRRO/FRO level. Make sure that services granted are electronic and not manual. You may face hurdles at the Immigration Check Posts in case of manual services.
How can Medinovita Help you with FRRO services?
Our team will assist you to register with the FRRO to convert your visa to Medical visa to undergo medical treatmnt in India.
Click here to raise FRRO service request.
Our team will also assist you to extend your medical visa beyond an year in the event if you wish to have an extented treatment cycle
Extension of Indian medical visa
The initial period for the medical visa is up to a period of one year or the period of treatment whichever less, which can be extended for a further period up to one year by the State Government/ FRROs on the production of medical certificate/ advice from the reputed/ recognized/ specialized hospitals in the country.
Any further extension will be granted by the Ministry of Home Affairs only on the recommendations of the State Government/ FRROs supported by appropriate Medical documents. Such visa will be valid for a maximum of three entries for one year. State Government/ FRROs may permit one additional entry in an emergent the situation if required.
Documents needed for the extension of Indian medical visa
Application form.
Photocopy of the passport and the initial visa.
Four photographs of the applicant.
Details of residence in India
Contact details of FRRO's for the extension of Indian medical visa
City
Address
Phone
Email
Bangalore
5th Floor, 'A' Block,
TTMC, BMTC Bus Stand Building,
K.H.Road, Shantinagar,
Bangalore - 560027
080-22218195
frroblr-ka@nic.in
Calicut
20/1305, Castle View, Thiruvannur Road,
Panniyankara,Kallai PO,
Kozhikode,Kerala- 673003
0495-2323550
frrocal@nic.in
Chennai
No. 26 Shastri Bhawan Annexe,Building 26
Haddows Road,Nungabakkam,
Chennai-600006
044-28251721
frrochn@nic.in
Cochin
2nd Floor, Airlines Building, Cochin
International Airport Ltd.,Airport PO,
Cochin- 683111,Kerala
0484-2611277
frrococ@nic.in
Delhi
East Block —VIII,Level -2 Sector -1
R.K Puram New Delhi-66
011-26711384
frrodli@nic.in
Kolkata
237, A.J.C Bose Road, Kolkata
033-22900549
frrokol@nic.in
Mumbai
Annex-|| Bldg., 3rd Floor Badruddin
Tayyabji Marg,Behind St.Xavier College, C.S.T
022-22621169
frromum@nic.in
Do you require assistance for medical visa to India ?
Medinovita assist patients to book their appointments in Indian hospitals and get invitational letter for medical visa. In case if you need any assistance in getting a visa, please submit enquiry or email us care@medinovita.com. You can also call or WhatsApp us on +91-9740177277. We usually respond within one hour of receiving the enquiry.
How can a patient from Bangladesh travel to India for Medical treatment
Step 1 : Submit your enquiry with Medinovita.Submit medical records and passport copy along with enquiry.
Click here to conact Medinovita's international patient desk.Alternatively you can email us

care@medinovita.com

or WhatsApp us on

+91-9740177277

to get a free consultation.
Step 2 : Optionally share medical documents and passport copy with Medinovita via email.
You can email medical records to

care@medinovita.com

Step 3: Medinovita patient relationship manager will get in touch with you to understand the treatment requested, hospital preference, city preferences, etc. Patient relationship manager also help you to choose the best hospitals and doctors in India.
Step 4: Medinovita to get back with an invitation letter, appointment date and treatment quote for processing the medical visa in 24 hours from the time passport copy is received.
Step 5 : Patient to process medical visa with Medinovita's assistance
Step 6 : Patient to make travel arrangements with the help of Medinovita
Step 7: Medinovita to book an appointment with the hospital and book accommodation at a hotel near to the hospital
Step 8 : Medinovita executive to receive atient at airport
Step 9 : Medinovita executive to drop patient at hotel and hospital reception
Step 10 : Medinovita executive to keep track of the progress while patient is in hospital
Step 11 : Medinovita executive to drop patient at airport once patient gets discharged from hospital
Step 12 : Medinovita to follow-up with hospital once patient returned home(if needed)
Hospital Recommendations for Patients from Bangladesh