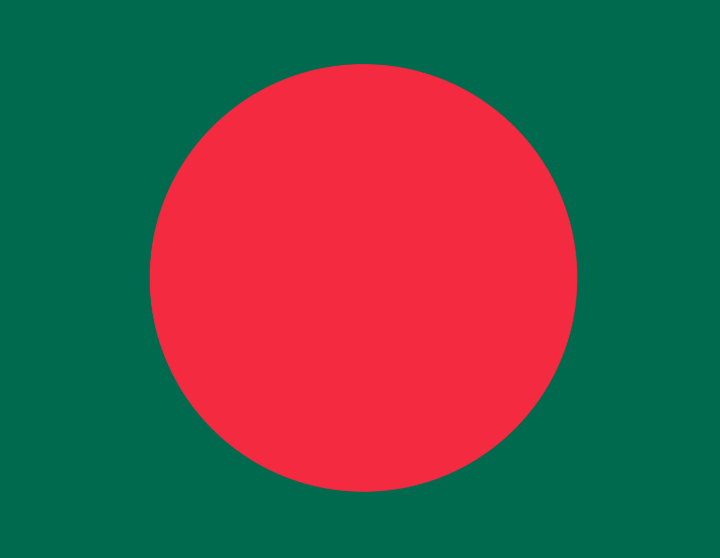 Eligibility for Indian medical visa for Bangladesh nationals
Medical visa is granted to those whose travel to India only for medical treatment.
Bangladesh passport holders are not eligible for eVisa medical processing to India. They must fill the application form online and submit the hard copy to any Indian visa application centres.
Patient must have invitation letter from a recognized/reputed/specialized hospital/healthcare center in India.Medinovita helps patient to book appointment in hospitals in India and get the invitation letter for the medival visa.Click here to request the invitational letter.
Only up to two medical attendants are allowed to accompany him/her. They can be his/her family members or close associates.
Passport should have at least six months validity from the date of arrival in India. The passport should have at least two blank pages for stamping by the Immigration Officer.
International Travellers should have the return ticket or onward journey ticket, with sufficient money to spend during his/ her stay in India.
Do you require a free cost estimate for your treatment and invitation letter?
Submit your details with scanned copy of passport and medical reports to get an estimate in 48hrs
Submit Enquiry
General documents required for Indian medical visa
Passport, in original, with a minimum validity of six months as on the date of submission of the application for the visa. The passport should have at least two blank pages. Copy of the passport (first four pages and endorsement of extension of validity if any) should be attached. All old passports must be submitted with the application form
One recent (not less than 3 months old) passport-size colour photograph depicting full face
Proof of Residence: A copy of National ID Card and Utility Bill such as electricity, telephone, gas or water bill (not less than 6-month-old)
Proof of Profession: Certificate from the employer. In case of students, a copy of Identity card from the educational institution is to be attached.
Proof of Financial soundness: Endorsement of foreign currency equivalent to US$150/- per applicant and/or a copy of international credit card and/or updated bank statement, as the case may be, showing sufficient balance to finance travel.
Online Visa Application form which has both BGD Registration No. and date of appointment with time
Applicants would be required to scan and upload their photograph in the designated space provided in the online application form.
Applicants must make sure that their date of birth & place of birth in the current passport matches with the one in the old passport, NID card and birth certificate.
All old passport must be submitted on the date of appointment, without all old passport application will be treated as incomplete.
Bangladeshi passport holder all categories of Indian visas, except Tourist (T) visas, are accepted on a walk-in basis without an online appointment date / E-token.
Medical documents required for Indian medical visa
Medical certificate, in original, from recognized hospitals/ doctors indicating in detail the medical condition of the patient
Recommendation from the attending doctor for availing treatment abroad in case of first visit
Recommendation from the attending doctor in India in case of continued treatment in India
In case of hospitalization or long term treatment, proof of financial resources, as indicated below, may be sought:

Bank statements for last 6 months
Solvency certificate from Bank
Visa processing fee
There is no visa fee for Bangladeshi passport holders applying for Indian medical visa.
Visa processing time
7 days.
Details of Indian Embassies / High Commissions / Consulates for applying medical visa
There are three Indian Consulates in Bangladesh where people can directly apply medical visa to India
These are located at Gulshan( Dhaka), Uposhahar(Rajshahi), Khulshi(Chittagong)
Address
Phone
Fax
Email
Website
Floor - G1, South Court, Jamuna Future Park ,
Progoti Sharani, Dhaka - 1229
Bangladesh
LOCAL: +880 9612-333666
International: +880 9612-333666
LOCAL: +880 9612-333666
International: +880 9612-333666
consular@hcidhaka.org
http://www.hcidhaka.org
284/II, Housing Estate Sopura
Uposhahar, Rajshahi
Bangladesh
LOCAL: (0721) 861.213
International: +880.721.861.213
LOCAL: (0721) 861.212
International: +880.721.861.212
Holding No. 2111
Zakir Hossain Road, Khulshi
Chittagong Bangladesh
LOCAL: (031) 654.148
International: +880.31.654.148
LOCAL: (031) 654.147
International: +880.31.654.147
ahc.chittagong@mea.gov.in
http://www.ahcictg.org
Details of authorized agencies in Bangladesh for applying Indian visa
There are eight Indian visa application centres (IVACD) managed by State Bank of India in Bangladesh.
These are located at Jessore, Chittagong, Sylhet, Khulna, Rajshahi, Mymensingh,Barisal and Rangpur
Address
Phone
Fax
Email
Website
210, Narail Road, Jessore
(Opposite of BADC seed storage godown suparibagan)
Jessore, Bangladesh.
09612 333 666, 09614 333 666
09612 333 666
info@ivacbd.com
www.ivacbd.com
297/1, Masakanda,
1st Floor, Masakanda Bus Stand,
Mymensingh
09612 333 666, 09614 333 666
09614 333 666
info@ivacbd.com
www.ivacbd.com
North City Super Market,
1st Floor, Barisal City Corporation,
Amrita Lal Dey Road,Barisal
09612 333 666, 09614 333 666
09614 333 666
info@ivacbd.com
www.ivacbd.com
J B Sen Road,
Opposite Ram Krishana Mission,
Mahigonj, Rangpur
88-05-2167074
88-05-2167074
info.rajshahi@ivacbd.com
www.ivacbd.com
2111, Zakir Hossain Road, Habib Lane,
Opposite Holy Crescent Hospital, Chittaghong
Bangladesh
00-88 -031-2551100
00-88-031-2524492
ivacctg@colbd.com
www.ivacbd.com
State Bank of India
Roseview Complex, Shahjalal Upashahar, Sylhet-3100
Bangladesh
00-88-0821 - 719273
00-88-0821-719932
info@ivacbd.com
www.ivacbd.com
Dr. Motiar Rahman Tower,
64, KDA Avenue, KDA Commercial Area,
Banking Zone, Khulna-9100,Bangladesh
00-88-041-2833893
00-88-041-2832493
info@ivacbd.com
www.ivacbd.com
Morium Ali Tower,
Holding No-18, Plot No-557, 1ST Floor,
Old Bilsimla, Greater Road,
Barnali More, 1ST Floor, Ward No-10,Rajshahi.
Bangladesh
88-0721-812534, 88-0721-812535
00-88-041-2832493
info.rajshahi@ivacbd.com
www.ivacbd.com
Step by step process to apply Indian medical visa from Bangladesh
Go to https://indianvisaonline.gov.in/visa/index.html and click on Regular Visa Application.
Fill up the important credentials: your country's name, high commission, date of birth, nationality, e-mail id, expected date of arrival in India and visa type. Enter the access code and click Continue.
The form consists of a total of three pages. Fill up each page of the form with your correct details. Click Save and Continue at the bottom after you finish filling up each page.
Enter details of your family address and your profession or occupation.
Enter your medical visa application details regarding the hospital in your country and the concerned hospital in India, duration of treatment, no. of entries, the purpose of visit, expected date of journey, expected time of arrival and departure, other information, details about SAARC country visit and reference.
If you travel to India for your treatment only through Medinovita's assistance, then you can provide Medinovita's office address and contact number of patient relations. However, an email seeking permission to use Medinovita's reference is required.
You can upload your picture or paste it after you take out a print of the filled application form. If you want to upload your recent picture in the online form, click on Upload Photo.
After you click Save and Continue on the third page, a preview containing all your details will appear.
Click on Verified and Continue if all the data entered by you are correct.
Go through the set of instructions that appear on the new window and press OK for final registration. To modify details click Cancel.
After clicking OK a window will appear where you would have to select the appointment date for submission of application at the Mission Counter. Click on Confirm the Appointment.
Another new window will open after you have clicked on Confirm the Appointment, bearing two options to Print or Save the online application. Save the online application. Do not print it immediately as you may lose the application by doing so.
Click on Print Registered Application to get the hardcopy of your application form.
If you haven't uploaded your picture in the online application form, then paste it in the photo box on the first page. The photograph should be exactly the same size as the box (2inch X 2inch).
Put your signature on the rectangular box just below the photo box. Do the same in the box at the bottom of the second page.
Finally, submit the application form along with the required documents at the Mission Counter on the appointed date, mentioned at the right margin of the application, during the working hours.
Extension of Indian medical visa
The initial period for the medical visa is up to a period of one year or the period of treatment whichever less, which can be extended for a further period up to one year by the State Government/ FRROs on the production of medical certificate/ advice from the reputed/ recognized/ specialized hospitals in the country.
Any further extension will be granted by the Ministry of Home Affairs only on the recommendations of the State Government/ FRROs supported by appropriate Medical documents. Such visa will be valid for maximum three entries during one year. State Government/ FRROs may permit one additional entry in an emergent situation if required.
Documents needed for the extension of Indian medical visa
Application form.
Photocopy of the passport and the initial visa.
Four photographs of the applicant.
Details of residence in India
Contact details of FRRO's for the extension of Indian medical visa
City
Address
Phone
Email
Bangalore
5th Floor, 'A' Block,
TTMC, BMTC Bus Stand Building,
K.H.Road, Shantinagar,
Bangalore - 560027
080-22218195
frroblr-ka@nic.in
Calicut
20/1305, Castle View, Thiruvannur Road,
Panniyankara,Kallai PO,
Kozhikode,Kerala- 673003
0495-2323550
frrocal@nic.in
Chennai
No. 26 Shastri Bhawan Annexe,Building 26
Haddows Road,Nungabakkam,
Chennai-600006
044-28251721
frrochn@nic.in
Cochin
2nd Floor, Airlines Building, Cochin
International Airport Ltd.,Airport PO,
Cochin- 683111,Kerala
0484-2611277
frrococ@nic.in
Delhi
East Block —VIII,Level -2 Sector -1
R.K Puram New Delhi-66
011-26711384
frrodli@nic.in
Kolkata
237, A.J.C Bose Road, Kolkata
033-22900549
frrokol@nic.in
Mumbai
Annex-|| Bldg., 3rd Floor Badruddin
Tayyabji Marg,Behind St.Xavier College, C.S.T
022-22621169
frromum@nic.in
Do you require assistance for medical visa to India ?
Medinovita assist patients to book their appointments in Indian hospitals and get invitational letter for medical visa. In case if you need any assistance in getting a visa, please submit enquiry or email us care@medinovita.com. You can also call or WhatsApp us on +91-9740177277. We usually respond within one hour of receiving the enquiry.
How can a patient from Bangladesh travel to India for Medical treatment
Step 1 : Submit your enquiry with Medinovita.Submit medical records and passport copy along with enquiry.
Click here to conact Medinovita's international patient desk.Alternatively you can email us

care@medinovita.com

or WhatsApp us on

+91-9740177277

to get a free consultation.
Step 2 : Optionally share medical documents and passport copy with Medinovita via email.
You can email medical records to

care@medinovita.com

Step 3: Medinovita patient relationship manager will get in touch with you to understand the treatment requested, hospital preference,city preferences etc. Patient relationship manager also help you to choose the best hospitals and doctors in India.
Step 4: Medinovita to get back with an invitation letter, appointment date and treatment quote for processing the medical visa in 24 hours from the time passport copy is received.
Step 5 : Patient to process medical visa with Medinovita's assistance
Step 6 : Patient to make travel arrangements with the help of Medinovita
Step 7: Medinovita to book an appointment with the hospital and book accommodation at a hotel near to the hospital
Step 8 : Medinovita executive to receive atient at airport
Step 9 : Medinovita executive to drop patient at hotel and hospital reception
Step 10 : Medinovita executive to keep track of the progress while patient is in hospital
Step 11 : Medinovita executive to drop patient at airport once patient gets discharged from hospital
Step 12 : Medinovita to follow-up with hospital once patient returned home(if needed)
Hospital Recommendations for Patients from Bangladesh